FAQ
Q: What platforms can I play The Low Road on?
A: PC, Mac & Linux through the Steam Store. Mac through the Mac App Store. Additionally, available on Nintendo Switch in the Americas, Europe and Australia.
Q: Will The Low Road be available on any other platforms?
A: We are not officially announcing the launch of the game on another platform but we are open to the option.
Q: Will this be an episodic release?
A: No, we have decided to launch one awesome full length game instead of breaking it into four -episodic parts as we first initially announced.
Q: I write for a blog, vlog, newspaper, radio show, carrier pigeon service, can you hook me up with a press kit?
---
XGen Studios, Inc.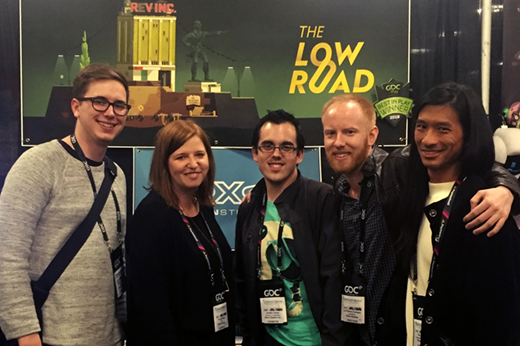 About Us
XGen Studios is an independently owned and operated game developer of several award-winning titles on consoles, mobile platforms and the web. Established in 2001 and located in Edmonton Canada, we're a team of passionate creative people, united by a desire to create the type of games we wish existed. We're excited by emerging technologies and the new experiences these make possible.
Since 2001, XGen Studios has released 14 internally-developed titles for consoles, mobiles and the web, including the #1-selling hit Defend Your Castle for Nintendo's WiiWare™ Service and Day-1 PS4™ title Super Motherload.